Orange, White, Big, Little and every size in between, we grow them all here. Each fall, our 6 pumpkin patches start to overflow with a sea of color. We offer pumpkins for Pick Your Own or they can be picked out at the farm store.  Have you seen the 'Pumpkin Alley' within Haunted Overload yet? Each October, we host a pumpkin carving contest and the winners get to display their jack-o'-lantern's in 'Pumpkin Alley' during Haunted Overload. Dates will be posted for the caving contest when they become available.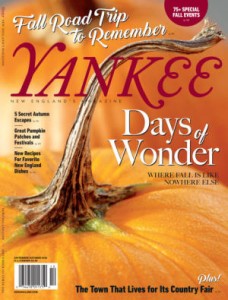 The September/October 2016 issue of Yankee Magazine included DeMeritt Hill Farm in the Yankee's Guide to Pick-Your-Own pumpkin patches.  DeMeritt Hill Farm is thrilled to be the only farm representing the great state of New Hampshire.
Yankee Magazine writes "Pick your own from not just one but two patches at this beautiful farm.  You can either walk or ride out there, but if you're in a rush, stop by the store to select a pumpkin.  A wide variety of painted pumpkins and gourds are available too.  Hop aboard a hayride or hike the trail network for more family fun".
As we continually develop and grow the farm, we have cultivated additional planting fields throughout the farm for more pumpkins.   We hope you have the chance to come and pick out your own this fall.
Fun Facts & Tips
The word pumpkin originates from the word pepon, which is Greek for large melon.
The oldest evidence, pumpkin-related seeds dating between 7000 and 5500 BC, were found in Mexico.
Pumpkins are a squash-like fruit that range in size from less than 1 pound to over 1,000 pounds.
Types we grow here
PYO Pumpkins – You can walk or take a ride out to the pumpkin patch to pick out the best one.
Pre-Picked in the Store – Don't have time to pick one from the patch? We offer a huge selection at the store. We also offer a selection of painted pumpkins and gourds too.