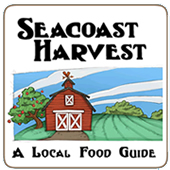 DeMeritt Hill Farm is proud to announce their Lead sponsorship of the 2016-2017 edition of Seacoast Harvest. Seacoast Harvest is an annual publication of Eat Seacoast Local. DeMeritt Hill Farm aligns very closely with the goals of Eat Seacoast Local.
Seacoast Eat Local connects people with sources of locally grown foods and advocates eating locally for the health of our environment, community, culture and economy. Through advocacy, organizing and education, we work toward a sustainable local food system that meets the needs of both producers and consumers.
Seacoast Harvest is available at locations throughout New Hampshire and Maine.