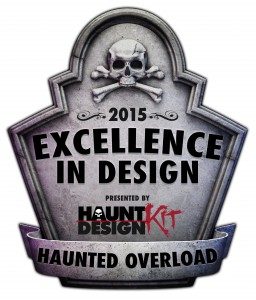 Lexington, Kentucky (October 27, 2015) – Haunted house design website, HauntDesignKit.com officially announces its picks for the best designed haunted attractions.
"Everybody and every media outlet has their lists for the scariest or 'best' haunts in the country, but we wanted to do something different" says website creator Tyler Barnett. "Our focus is the design aspect of the business… So we're awarding what we consider to be the best designed shows in the industry."
HauntDesignKit.com took into consideration many different aspects of the haunts they visited -which was over 150 attractions- and the criteria included: Overall design, attraction layout, flow, scenic treatments, and how well the design stuck with the themes of the attractions.
"We visited every haunt that made our list; most times in secret," Barnett says. "We wanted to catch the haunts off guard and not announce to them we were coming. We paid full ticket price and waited in the lines just like an average customer. We wanted the full experience… This was the perspective we needed to decide on our winners."
HauntDesignKit.com is proud to announce our winners of our 2015 Excellence in Design Award:
Dark Hour Haunted House – Plano, TX
Haunted Overload – Lee, NH
House of Torment – Chicago, IL
Screamland – Margate, Kent/United Kingdom
The 13th Gate – Baton Rouge, LA
These attractions are what we consider to be the very best at what they do. From a design aspect, each attraction offers the very best in creative design, scenic design, scenic treatments and all stick to their respective themes very well. A lot of these haunts actually employ scenic designers and artists to help create their haunted worlds. Congratulations to all the haunts that made the list.
Please visit hauntdesignkit.com for the full press release.