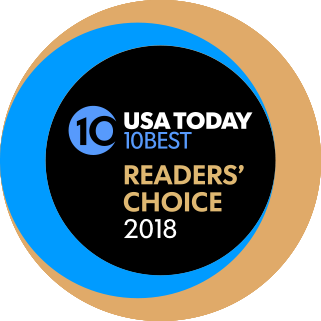 Apple picking is a fall family tradition in New Hampshire, where more than 24.5 million pounds of the fruit are produced each year. Picking season is also known for another sweet treat, apple cider donuts. Farm stands and bakeries across the state fry them up fresh. Eat them plain, glazed or cinnamon sugared, and for the ultimate autumn snack, dip them in a cup of the same fresh pressed cider used to give them their distinct apple flavor.
"At DeMeritt Hill Farm, apple cider donuts come in several varieties, including blueberry, chocolate, classic apple cider and pumpkin. On a cool fall afternoon, nothing beats a fresh donut dunked in a cup of hot cider".
The top 10 winners in the category Best Cider Donuts in New Hampshire are as follows:
Meadow Ledge Farm – Loudon
Emery Farm – Durham
Cider Bellies Doughnuts – Meredith
McKenzie's Farm – Milton
DeMeritt Hill Farm – Lee
Stonehouse Baking Co. – Barrington
Applecrest Farm Orchards – Hampton Falls
Chichester Country Store – Chichester
Gould Hill Farm – Contoocook
Cardigan Mountain Orchard – Bristol
A panel of experts partnered with 10Best editors to picked the initial 20 nominees, and the top 10 winners were determined by popular vote. Experts Taylor Hicks (State Plate), Susan Laughlin and Colleen Westcott and Jonathan Carrigan (Portsmouth Eats Restaurant Tasting Tours) were chosen based on their knowledge and experience of the state food scene.
Congratulations to all these winning farms, stores and restaurants!