There's always something delicious in season at DeMeritt Hill Farm. Summer and Early fall months bring a variety of fresh vegetables, blueberries, peaches and apples. As the farm continues to grow, additional produce will be added to the list.

Macoun
This apple was developed by the New York State Agricultural Experiment Station in 1923 and was named after a Canadian plant researcher. The apple has white flesh and is juicy. It makes an excellent all around apple. Harvest ranges from late September into October.

Honey Crisp
Honey Crisp was produced from a 1960 cross of Macoun and Honeygold, as part of the University of Minnesota apple breeding program to develop winter hardy cultivars with high fruit quality. Honey Crisp fruit is characterized by an exceptionally crisp and juicy texture. This apple comes into harvest in early October.

Cortland
The Cortland apple was introduced at the New York State Agricultural Experiment Station back in 1898. The apple is larger than the McIntosh and ripens about two weeks later as well. This juicy apple is ideal as a dessert apple and is also a very good eating apple. The harvest for this apple begins in September and lasts through early October.

McIntosh
The McIntosh was developed by John McIntosh in 1870 in Ontario, Canada. It is a cross between Fameuse and Detroit Red. These apples have white, crisp flesh that's full of juice. The apple is used for great eating, pies, cider and sauces. Harvest for this apple begins in September.

Jonagold
This apple was released by New York State's Geneva Station in 1968. The apple is a cross between the Jonathan and Golden Delicious. It is an excellent dessert or eating apple, offering a sweet-tart rich flavor. It is also a good cooking apple. Harvesting the Jonagold is in October.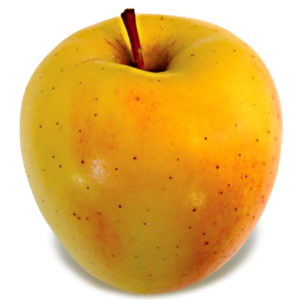 Golden Delicious
The apple can be identified as a tall, yellow/green apple that has a striking appearance. This apple is a honey sweet apple that has a mild, sweet flavor with juicy,
crisp, light yellow flesh. It is excellent for eating, salads, and sauces. It is good for pies, baking, and freezing.

Mutsu
A cross between Golden Delicious and Indo, the Japanese seedling was developed in the 1930's and brought to the United States in the 1940's. The Mutsu is much larger in size than the Golden Delicious and when ripe, holds the same golden color. The apple is always crisp, juicy and very sweet. It makes an excellent eating and baking apple while holding up very well in storage. Harvest time for this apple begins in October.