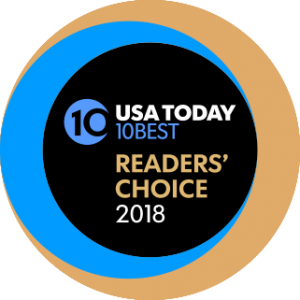 Halloween means costumes, horror movies, haunted houses and a celebration of all things scary. 'Tis the season for terror, and 10Best set out to find the best haunted attractions in the U.S. These 10 haunted houses, selected by 10Best Local Experts and editors and voted the best by 10Best readers, offer the best actors, set designs, special effects and value for money out there.
"Haunted Overload in New Hampshire does an excellent job of providing various levels of scares, so everyone can enjoy. They pull out all the stops for Haunted Overload, a fully immersive (and terrifying) haunted trail through the New England woods".
---
The top 10 winners in the Best Haunted Attraction category are as follows:
The Lewisburg Haunted Cave – Lewisburg, Ohio
Containment Haunted House – Lithia Springs, Ga.
Dead Acres Haunted Hoochie – Pataskala, Ohio
Kersey Valley Spookywoods – Archdale, N.C.
Queen Mary's Dark Harbor – Long Beach, Calif.
Haunted Overload – Lee, N.H.
Netherworld Haunted House – Atlanta
Nashville Nightmare – Madison, Tenn.
The Massacre on Marshall Road – El Paso, Texas
SCREAM-A-GEDDON – Dade City, Fla.
10Best Editors teamed up with Christine Barger, a.k.a. The Haunt Girl, to pick the initial 20 nominees, and the top 10 winners were determined by popular vote.
Congratulations to all these winning Halloween haunts!