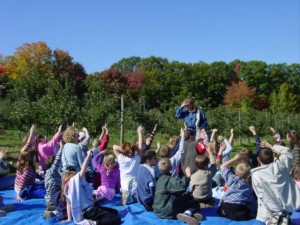 Hosting your next school tour is our speciality! We have hosted hundreds of schools from all over New England with various themes since 1992. We have years of experience working with children of all ages and ability. We have worked with Special Needs and Special Ed students as well as ESL students. There is no group that is too large or too small.
Each year, more than five thousand school children visit our farm and walk away with their own positive memories that are sure to last. Our tour guides all have years of experience teaching children of all ages and abilities. Each tour provides an opportunity to enjoy a tractor drawn hayride around the farm to learn how a farm works. We strive to provide a fun and educational experience that will create a lasting memory.
---
School Outing/Events
Here at DeMeritt Hill Farm we offer fall school tours. Every tour we give is a personalized, age and ability appropriate guided tour. Each school tour includes the following:
A hay ride with a guided tour through the orchard and pumpkin patch.
A coloring book is given to each child to take home. The book was designed to be a follow up lesson for the next day.
The children get to pick from the trees, their own bag of apples which they take home.
A class photo is taken in the orchard and is given to the teacher that day.
Classes are invited to bring their lunch and eat at our picnic area. When the class is finished, they can take a walk on our nature trails.
The class returns on the hay ride to the 'school house' and goes inside to settle in for an age appropriate science lesson.
Each child receives their own apple sipper filled with fresh pasteurized apple cider and apple cider doughnut hole.
Children are also welcome to visit with our farm animals.
Parents are welcome to purchase a class picture (4×6) before they leave for the day.
Prices are $10 per child, $4 per adult with a minimum of 10 children per tour. All tours generally last about one hour.
Tour hours are 9am – 10am and 10am – 11am.
For more information please email us at: info@demeritthillfarm.com. Please note that we do not book dates online at this time. You must call to reserve a date for your school.
Video Tour
Testimonials
The kids loved the wagon ride especially when they saw the horses on the way into the orchard. The apple picking was great and the dwarf trees made it easy for the smaller children to reach and pick their own apples. We all enjoyed eating lunch after, playing on the playground and seeing the animals. Thanks for a great day!

– Lebanon Children's Garden
"Ashley and Brenda and our friends from Clipper Harbour visited your farm today. Wow what an experience we all had today. The kindness and hospitality of the people who work here was just so pleasant. The joy this brought my residents was overwhelming and there is nothing we werent happy with. Thank you for everything you shared and did for us. They think your farm was beautiful and very peaceful and loved every second of our visit. We will definitely be back again even with our own families." So much thanks!

– Clipper Harbour Home
"I liked learning about bees."

– age 7
"The best part was jumping for apples."

– age 9
"I liked picking apples the best."

– age 5
"Thank you very much for allowing our group to visit the farm. There was something for all of our wide age range after school group to do. Everyone was thrilled that they got to take some apples home."

Rachel Hennessy
Program Director
The Works After School
Additional Tours
In addition to hosting school tours, our orchard is used for many other parties/events. If you are looking for an unusual place to have your child's birthday party please consider our orchard. We have birthday packages for everyone's needs so give us a call for all the details. And please allow two weeks notice.
We also host corporate group parties and tours for seniors and physically challenged groups. Our store is wheelchair accessible and if notified in advance, makes every effort to accommodate special needs. Our nature trails are a big hit with the scouting community and used for earning badges. So please think of us not only for your apple needs but also for a fun family day at the orchard.
Feedback Form
We would love to hear about your experience! Please take a moment to click on the button below and complete the form.